TALENT AND ITS SUPPORTERS (CHARACTERISTICS OF THE TALENT STIMULUS AND ITS CORRELATES IN EAST SLAVIC LANGUAGES ACCORDING TO THE RESULTS OF A PSYCHOLINGUISTIC EXPERIMENT)
Keywords:
образ світу, мовна свідомість, асоціативний експеримент, асоціативне поле, асоціативний гештальт, the world reflection, linguistic consciousness, associative experiment, associative field, associative gestalt
Abstract
Ethno-cultural studies of the world reflection construed by the speakers of different languages occupy a leading position in modern psycholinguistic research. The proposed enquiry,
fulfilled in the above-mentioned framework, explores Eastern Slavic ethnic groups' linguistic consciousness, focusing on the common and specific features of the world reflections, characteristic to each culture representatives.
The article presents the results of psycholinguistic analysis of the word-stimuli ТАЛАНТ /ТАЛАНТ / ТАЛЕНТ associative fields, representing corresponding fragments of Ukrainians',
Russians' and Belarusians' world reflections.
The use of "associative Gestalt" enabled revealing the associative field structure of stimuli-correlates, the number of zones in Gestalts, as well as the zones' volume and qualitative content. The associative fields' core and periphery, indicative of each language, were determined and characterized. The work establishes national and cultural particularity of the linguistic consciousness reflections typical to representatives of Eastern Slavic peoples.
References
Этимологический словарь русского языка Макса Фасмера [Электронный ресурс]. – Режим доступа : http://slovno.com.ua/etimologicheskiy_slovar_russkogo_yazyika_maksa_fasmera/
Етимологічний словник української мови : [у 7 т.] / редкол. : О.С. Мельничук [гол. ред.] та ін. – К. : Наук. думка, 1983–. – Т. 5 : Р – Т / уклад. Р.В. Болдирєв та ін. – 2006. – 704 с.
Залевская А.А. Введение в психолингвистику / Александра Александровна Залевская. – М. :
Российск. гос. гуманит. ун-т, 1999. – 382 с.
Залевская А.А. Национально-культурная специфика картины мира и различные подходы к ее исследованию / А.А. Залевская // Языковое сознание и образ мира: сб. ст. / отв. ред. Н.В. Уфимцева. – М. : Сарма, 2000. – С. 39–54.
Кочерган М.П. Основи зіставного мовознавства / Михайло Петрович Кочерган. – К. : Вид. центр "Академія", 2006. – 424 с.
Словарь философских терминов / науч. ред. В.Г. Кузнецова. – М. : ИНФРА-М, 2005. – 731 с.
Словник української мови : [в 11 т.] / АН УРСР. Ін-т мовознавства ; за ред. І.К. Білодіда. –
К. : Наукова думка, 1970–1980. – Т. 10. – 1979. – 658 с.
Стернин И.А. Контрастивная лингвистика / Иосиф Абрамович Стернин. – Воронеж : Истоки, 2004. – 189 с.
Хамитов Н.В. Философский словарь. Человек и мир / Н.В. Хамитов, С.А. Крылова. – К. : КНТ, Центр учебной литературы, 2006. – 308 с.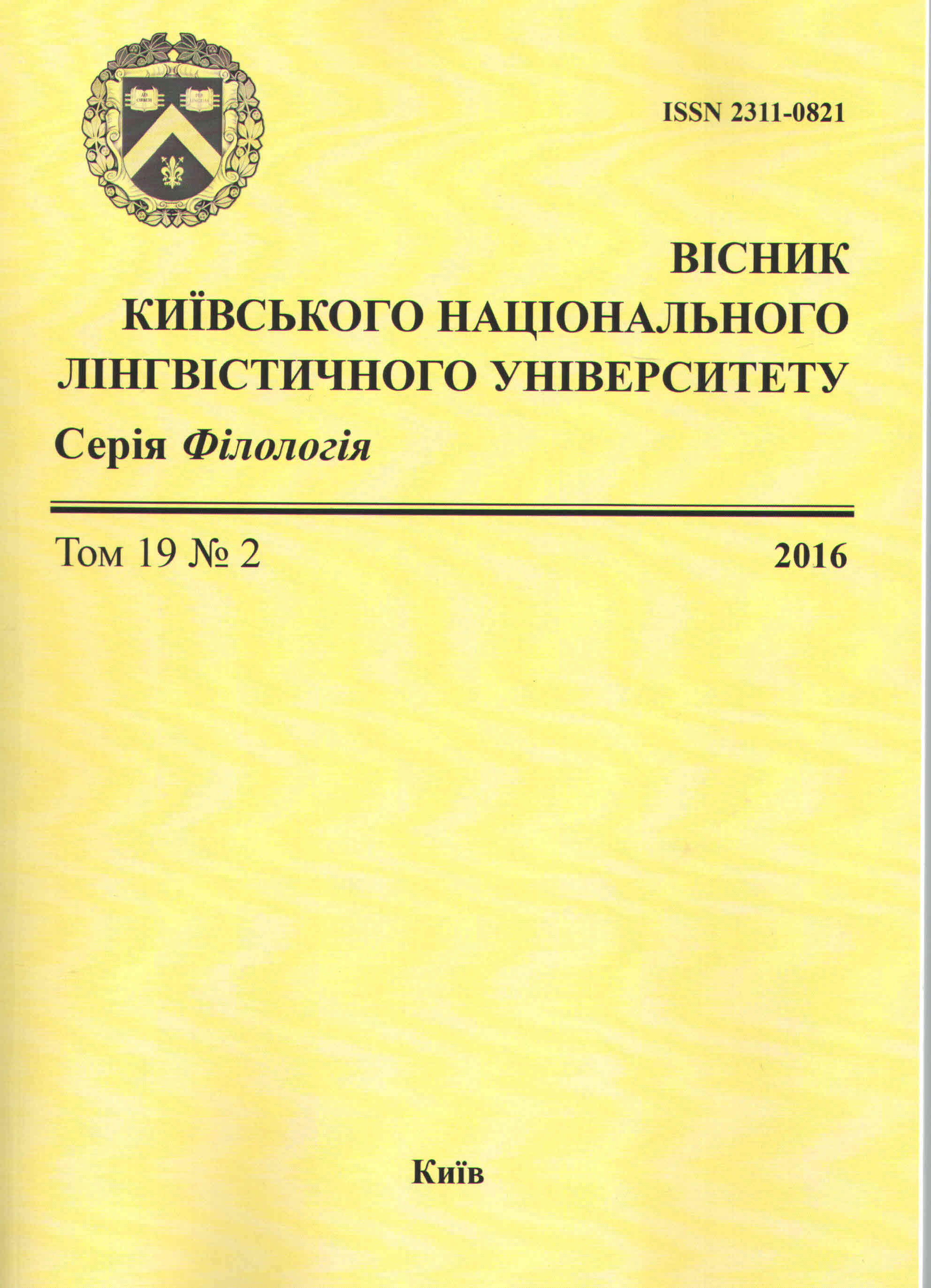 Downloads
License
1. Authors take full responsibility for the content of the articles as well as the fact of their publication.
2. All the authors must follow the current requirements for publication of manuscripts. Plagiarism itself and its representation as the original work as well as submission to the editorial office previously published articles are unacceptable. In case of plagiarism discovery the authors of the submitted materials take all the responsibility.
3. Authors shall inform the editor of any possible conflict of interests which could be influenced by the publication of the manuscript results.
4. The editorial board has the right to refuse publication of an article in case of non-compliance with these requirements.