MEANS OF NARRATIVE SPACE CONSTRUCTION: A COGNITIVE PERSPECTIVE
Keywords:
locative construction, allocentric and egocentric coordinate systems, narrative space, literary discourse, Gothic fiction, spatial frame, frame of reference, container image-scheme
Abstract
The article deals with the problem of spatial orientation and discourse factors that influence the way narrative space is constructed in Gothic fiction. The focus in the article is made
on the locative construction, which within the framework of construction grammar is taken as the main means of expressing spatial relations both on the syntactic and the semantic levels.
The distinctions between different spatial frames, reference and coordinate systems are used to account for the peculiarities of spatial organization of the narrative. The article concludes that the way space in a Gothic narrative is constructed is influenced both by the way we as human
being tend to perceive and relate the locations of objects to each other and ourselves and the literary conventions pertaining to the genre, which create certain expectations that a given narrative ought to comply with.


References
Allocentric vs. Egocentric Spatial Processing [Electronic resource]. – Access mode: http://www.nmr.mgh.harvard.edu/mkozhevnlab/?page_id=308 2. Bateman John. The Role of Conceptual and Linguistic Ontologies in Discourse [Electronic resource] /
John Bateman, Thora Tenbrink // Discourse Proicesses, 2007. – Access mode: https://www.researchgate.
net/publication/247807846_The_Role_of_Conceptual_and_Linguistic_Ontologies_in_Discourse
Evans V. Cognitive linguistics. An introduction / V. Evans, M. Green. – Edinburgh : Edinburgh University Press, 2006. – 830 p.
Evans V. The perceptual basis of spatial representation [Electronic resource] / V. Evans. – Acess mode: http://www.vyvevans.net/ PerceptualBasisOfSpatialRepresentation.pdf
Goldberg Adele E. Constructions: a new theoretical approach to language / Adele E. Goldberg //
TRENDS in Cognitive Sciences, 2003. – Vol. 7. – №5. – Р. 219–224.
Gothic Novels: Characteristics & Examples [Electronic resource]. – Access mode: http://study.com/
academy/lesson/gothic-novels-characteristics-examples.html
Hart Christopher. Cognitive Linguistics and Critical Discourse Analysis / Christopher Hart //
Handbooks of Linguistics and Communication Science (HSK). – Berlin : Walter de Gruyter, 2015. –
Vol. 39. – 650 p.
Hoffmann Th. Construction Grammar: Introduction [Electronic resource] / Thomas Hoffmann,
Graeme Trousdale. – Access mode: http://www.academia.edu/1405774/Construction Grammar
Introduction
Hogle J. E. The Cambridge Companion to Gothic Fiction / J.E. Hogle. – Cambridge University Press, 2002. – 354 p.
Langacker R. W. Cognitive Grammar: A Basic Introduction / R.W. Langacker. – Oxford : Oxford University Press, 2008. – 562 p.
Langacker R. W. Discourse in Cognitive Grammar / R.W. Langacker // Cognitive Linguistics 12(2). – Berlin : Walter de Gruyter, 2001. – Р. 143–188.
New Reflections on Grammaticalization [ed. Ilse Wischer, Gabriele Diewald] // Typological studies in Language. – John Benjamins Publishing, 2002. – Vol. 49. – 435 p. – Svorou Soteria. Semantic constrains in the grammaticalization of locative constructions / S. Svorou. – Р. 121–143.
Prendergast Kathy. Introduction to the Gothic Tradition [Electronic resource] / Kathy Prendergast. – Access mode: http://www.usask.ca/english/frank/ gothtrad.htm
Rayan Marie-Laure. Space [Electronic resource] / Marie-Laure Rayan. – Access mode:
http://www.lhn.uni-hamburg.de/article/space
Rickheit G., Habel C. Mental Models in Discourse Processing and Reasoning / G. Rickheit, C. Habel // Advances in Psychology. – Elsevier, 1999. – Vol. 128. – 418 p.
Talmy L. Main Verb Properties [Electronic resource] / L. Talmy. – Access mode: http://wings.
buffalo.edu/linguistics/people/faculty/talmy/talmyweb/ Recent/main-verb.pdf
The Oxford Handbook of Cognitive Linguistics: [ed. Dirk Geeraerts and Hubert Cuyckens]. – Oxford : Oxford University Press, 2007. – 1334 p. – Zlatev Jordan. Spatial Semantics / J. Zlatev. – P. 319–350.
Yang Luxi. A Cognitive Analysis of the English Existential Construction from the Perspective of Iconicity / Luxi Yang // Journal of Language Teaching and Research, Vol. 1. – Academy publisher, 2010. – № 4. – P. 505–511.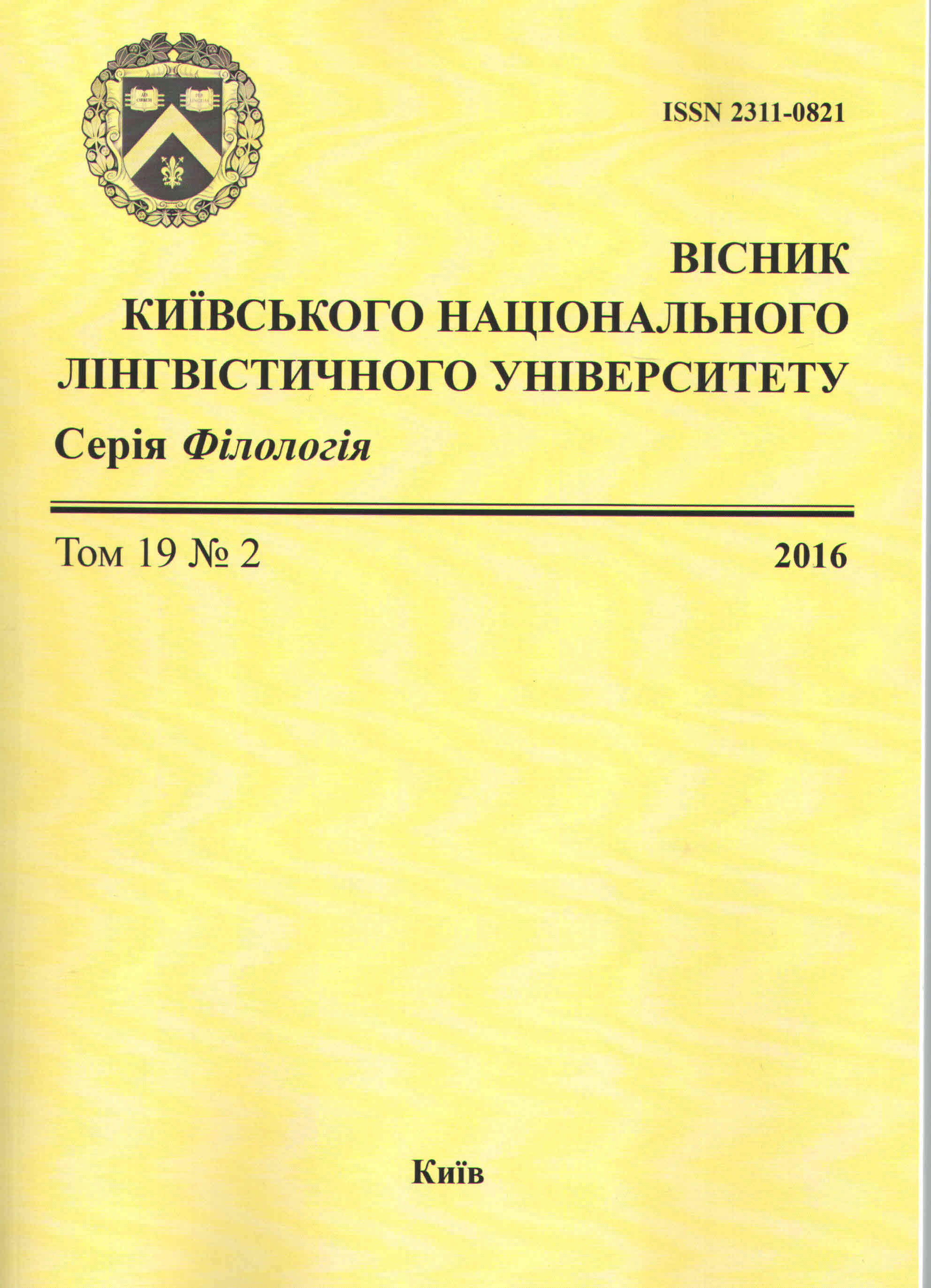 License
1. Authors take full responsibility for the content of the articles as well as the fact of their publication.
2. All the authors must follow the current requirements for publication of manuscripts. Plagiarism itself and its representation as the original work as well as submission to the editorial office previously published articles are unacceptable. In case of plagiarism discovery the authors of the submitted materials take all the responsibility.
3. Authors shall inform the editor of any possible conflict of interests which could be influenced by the publication of the manuscript results.
4. The editorial board has the right to refuse publication of an article in case of non-compliance with these requirements.